Product Description
NTC single glass encapsulated thermistor is negative temperature coefficient bead thermistor.
With the properties of small size, high heat resistance, high stability and reliability, this kind of thermistors apply to many applications such as air conditioners and automobiles.
Feyvan Electronics also designs and manufactures high precision NTC thermistors, probes, and cable assemblies. A thermistor is a type of resistor whose resistance is dependent on temperature. Resistors are always made of ceramic or metal composites. NTC thermistor is actually the temperature sensor that uses the resistance properties of these resistors to measure the temperature. We offer a full range of NTC thermistors and sensors including micro size, excellent stability, high accuracy and etc.
Properties of single glass encapsulated series:
- Small size & Glass encapsulated
- High heat resistance
- High stability and reliability
- Fast response
Applications:
- Air conditioners and heating apparatus
- Electronic thermometers
- Liquid level sensors
- Automobile electronics
- Electronic calendars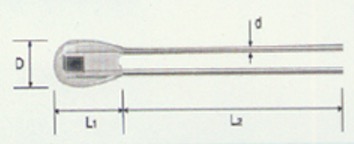 Code
D max
L1 max
L2 max

D

±0.05

MFG11
2.5
4
60
0.3
MFG12
1.5
3
60
0.2
MFG13
0.9
2
60
0.15

Main technology parameters:
Part No.
Rated Resistance
B Value
Operating
Temp. (℃)
R25(kΩ)
Tolerance
B25/85(K)
Tolerance
3450
2~10
±1%
3450
±1%
-20~+250
3750
8~10
3750
3950
10~50
±2%
3950
±2%
4150
50~100
±3%
4150
4200
100~350
4200
±3%
4350
870~980
±5%
4350
4450
1000~1500
4450

Type
Dissi.Coef. (mW/℃)
Thermal Time Constant (s)

Rated power

(mW)

Still in Air
Still in air
In flowing oil
MFG11
1.2~1.3
10~11
0.9~1.1
≤50
MFG12
0.7-0.8
4~5
0.3~0.4
≤35
MFG13
0.4~0.5
2~3
0.18~0.24
≤15