Product Description
Feyvan Electronics also designs and manufactures high precision NTC thermistors, probes, and cable assemblies.
NTC Thermistor means Negative Temperature Coefficient Thermistor.

A thermistor is a type of resistor whose resistance is dependent on temperature.
Resistors are always made of ceramic or metal composites.
NTC thermistor is actually the temperature sensor that uses the resistance properties of these resistors to measure the temperature.
We offer a full range of NTC thermistors and sensors including micro size, excellent stability, high accuracy and etc.
Properties of diode type glass encapsulated series:
- Small size & Glass encapsulated
- Durability in harsh environment of high temperature and high humidity
- High stability and reliability
- Fast response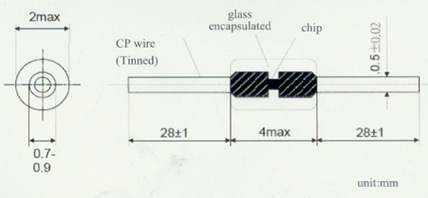 Applications:
- Household electrical appliances for temperature control and monitoring. (e.g. microwave oven, induction cooker etc.)
- Automatic facilities for temperature monitoring and compensation.
- Batteries or battery packs of mobile phone
- Temperature compensation of instrument coil, IC, quartz crystal oscillator and thermocouple.
Main technology parameters:
| | | | | | |
| --- | --- | --- | --- | --- | --- |
| | | | | | |
| 0.1~3780kΩ | 3100 ~ 4500k | ≤50 | | | -55℃~+250℃ |