Product Description
Mounting bolts thermistor sensors and screw thread mounting sensors consist of a thermistor mounted inside a threaded pipe plug with good thermal coupling through screw type thread.
Feyvan Electronics designs and manufactures NTC temperature sensors, probes, and cable assemblies with excellent long-term stability, high accuracy and short response time in high-temperature sensing applications such as automotive, home appliance and industrial use from -40℃ to +250℃.
With more than 15 years of NTC thermistors and sensor probes production experiences, Feyvan electronics provide various choices for a wide range of applications and are available in custom engineered probe package configurations for a variety of mounting and connectivity options with low costs.
Characteristics:
- Screw thread design resistant to vibration.

- Thermistor sensor assembly optional with O-ring sealing.
- Variety of thread sizes are available for options.
- Metal housings are available in brass or stainless steel or aluminum material.
Properties and Applications: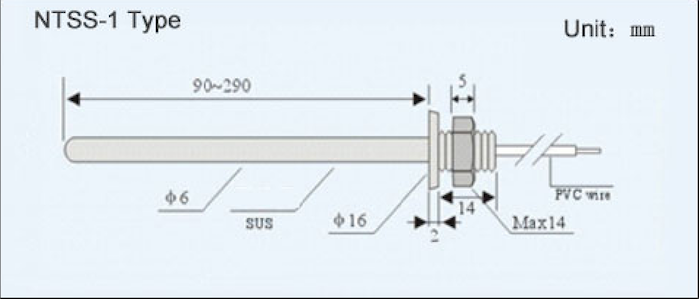 | | |
| --- | --- |
| Characteristic | Insert-type / Liquid temperature measurement / Good waterproof / Attractive Appearance |
| Application | Soybean Milk Machine / Liquid cylinder |
| Temperature range | -30℃ ~ +150℃ |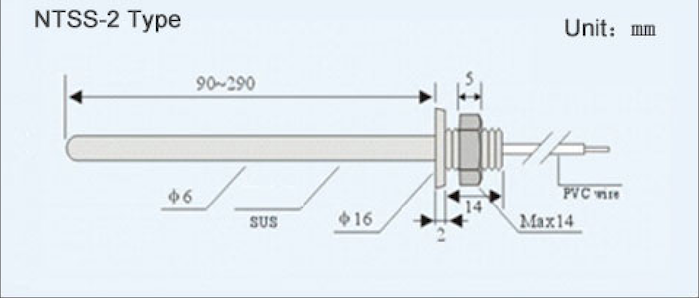 | | |
| --- | --- |
| Characteristic | Insert-type / Liquid temperature measurement / Good waterproof / Attractive Appearance |
| Application | Water heater / Testing water temperature in pipe |
| Temperature range | -30℃ ~ +150℃ |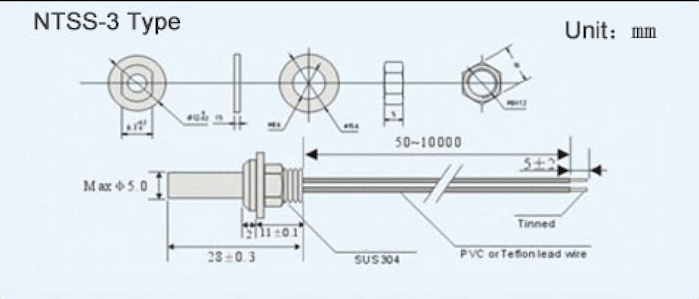 | | |
| --- | --- |
| Characteristic | Insert-type / Liquid temperature measurement / Good waterproof / Attractive Appearance |
| Application | Water heater / Measuring Liquid temperature in cylinder |
| Temperature range | -30℃ ~ +150℃ |