Product Description
Resistors are always made of ceramic or metal composites. A thermistor is a type of resistor whose resistance is dependent on temperature. NTC thermistor is actually the temperature sensor that uses the resistance properties of these resistors to measure the temperature.

NTC Thermistor are electronic components which reduce the resistance when the temperature increases. The material used in a thermistor is generally a ceramic or metal, while RTDs use pure metal mostly.
Thermistors typically achieve a greater precision within a limited temperature range, typically -40°C to 130°C.
Properties of film temperature measurement series:
- Small and light, convenient to mounting
- Good electrical insulation property & Safety
- High stability and reliability
- High sensitivity for thermo induction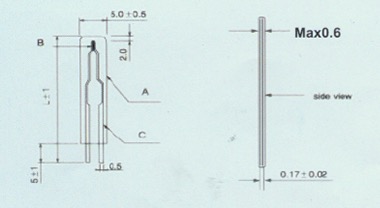 A: Polyimide film
B: Chip
C: Phosphor copper frame
Applications:
- Household appliances
- Computers

- Printers
Main technology parameters:
Rated Resistance

(R25)

B Value

( B25/50℃)

Rated Power

(mW)

Dissi. Coef.

(mW/℃)

Thermal Time

Constant (s)

Operating Temp.

(℃)

10 ~ 100kΩ
2900 ~ 5100k
≤25

≥0.7

(Still in air)

≤20

(Still in air)

-30℃ ~ +125℃